Smugglers Creek Sponsor of 2017 Ballyshannon Folk Festival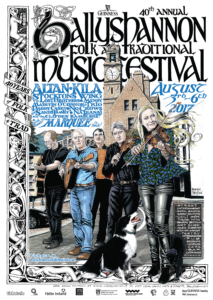 Smugglers Creek is delighted to be one of the Sponsor for the 2017 Ballyshannon Folk Festival starting today, Thursday 3rd August and running until 6th August. You will hear the sounds of traditional and folk music echo from the streets, pubs and marquee.
Top class lineup this year including Altan, Kila, Stocktons Wing, Mundy, Paddy Casey, The Sands Family, Na Leanai, The Lost Brothers, Mairtin O Connor Trio, No Crow.
Don;t forget to pop into the pub sessions, look out for the street entertainment and showcase competition. It will be a memorable festival weekend, no doubt!
If you are in the area, do pop into Smugglers for a spot of Lunch/Dinner, we open for food from 12:30-9:30pm every day!