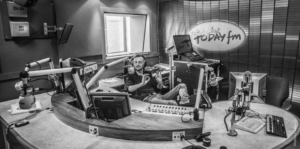 Fergal Darcy, the energetic Today FM Radio Presenter popped into Smugglers unannounced. We only found out after hearing the mention of Smugglers on his show on Monday.
Click here for a snippet of Fergal's Off the Charts Show:
Fergal Darcy at Smugglers Creek
Apparently, he stayed at the lovely Herons Cove B&B and decided to stop by at Smugglers for some food…"Thank you Fergal for giving us the "Thumbs-Up". Hope to see you + friends soon…..